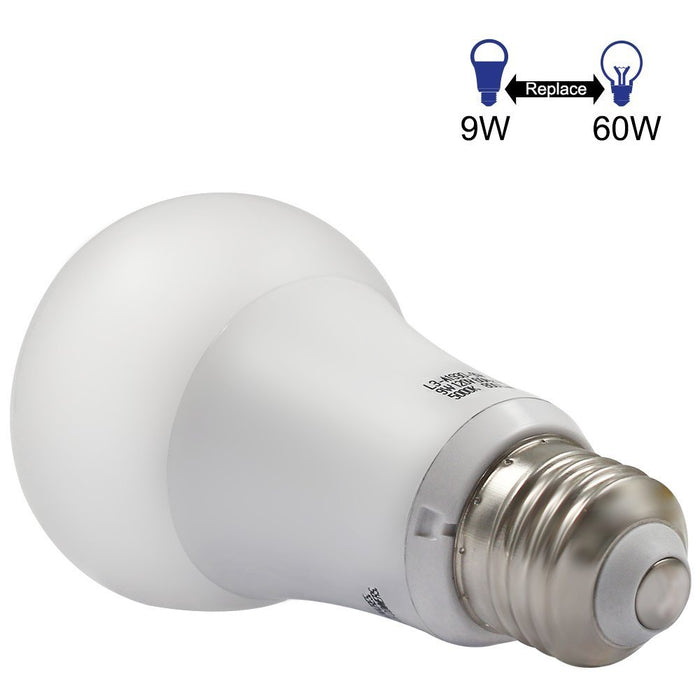 Dimmable A60 9W LED Light Bulb -2700k - Warm White - E26/E27
Sale
Sale
Original price
$4.99
-
Original price
$4.99
Certification: UL and FCC
Base: E26/E27
Size: f2.48*4.41 inch
Wattage: 9W
Power: 120V AC
Lumen: 800lm
CRI: >80
Color temperature: 2700K (warm white);
Beam angle: 270 degree
Dimmable: yes
Features
-Certification: UL-listed and FCC approved top-notch quality A60 light for perfect performance and safe operating
-Energy efficient: 9W LED equivalent to 60W traditional incandescent light bulb in 800lm and 90% energy saving
-Wide beam: designed with 270 degree view angle and 2700k colour temperature
-Convenient to use: built with E26/E27 base and long life span, easy to use and reuse
-Wide application: bedrooms, kitchens, living rooms, dining rooms, offices, hallways
Description
High quantity:
9W LED A60 light bulb approved by UL (Underwriters' Laboratories) and FCC for its top-notch quality and best performance in lighting. It designed with Aluminum light body for better heat dissipation and PVC cover for softer lighting.
Energy efficient:
This 9W LED bulb can replace your old 60W incandescent light bulb with 800lm output and 2700K color temperature, the yearly estimated cost of this LED bulb is $1.08 while a 60W incandescent light is $2.41 (based on 3hours/day, 11?/ kWh, cost depends on rates and use).
Color temperature:
Warm white in 2700K color temperature makes is perfect for clear lighting and great decorative accent for home lighting in bedrooms, kitchens, living rooms, dining rooms, offices, hallways and so on.
Wide beam:
Designed with 270 degree view for high efficiency lighting reflection and can improve visibility at night and provided softer light source.
Eco-friendly:
With no mercury, UV, infrared or other deleterious radiation. it will do no harm or fade to your fabrics and furnishings. BTW, a simple switch can make great difference in your home.
Notice:
Suitable for use in open luminaries
Not intended for use with emergency exit fixture
Not for use where directly exposed to water
Turn off power before changing lamp
Dimmable but must use with a compatible LED dimmer. (A regular dimmer won't work)
Specification
Certification: UL and FCC
Base: E26/E27
Size: f2.48*4.41 inch
Wattage: 9W
Power: 120V AC
Lumen: 800lm
CRI: >80
Color temperature: 2700K (warm white);
Beam angle: 270 degree
Dimmable: yes