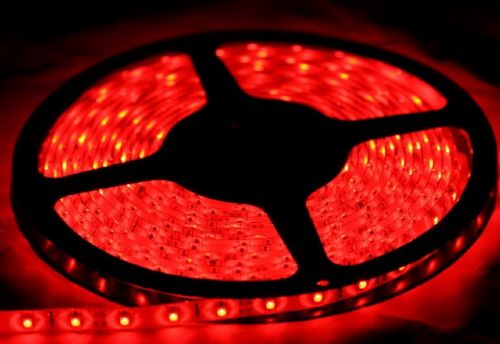 Red 12v SMD-5050 LED Strip Light 16.4' Spool IP20
Sale
Sale
Original price
$34.99
-
Original price
$44.99
SKU
DR-5050FX60IP20-12R-02
Red 12v SMD-5050 LED Strip Light 16.4' Spool (5m)
60 LED's / Meter
12v LED strip lights feature a self adhesive backing with 300 high intensity output triple chip LED's which consume only 4.1 watts per foot and are rated for 50,000 hours plus. Since they are cut table in 4 inch intervals they are ideal for creating custom lighting designs.
These units have a high density 60m / led coverage for the brightest strip lights out there.
For use indoors select IP20. If you are using your strip lights outdoors or would simply prefer a waterproof version please select IP65.

12v Strip Light Accessories Included:
Each 16.4' LED strip light spool includes everything you need to connect to a 12v power source (power source not included).

1 x Female Strip Light Power Connector (pre-installed)
1 x Strip Light End Cap

12v SMD-5050 LED strip lights require a 6 amp 12v power source. To purchase a 12v power supply or other strip light accessories please visit our LED strip light accessory category here.
Detailed Specifications
Length:

16.4' Reel

Voltage:

12 Volt

Lifetime:

50,000 hours

Power Consumption:

4.1 Watts per foot

Current:

45~54mA per meter

Bulbs:

300 Super bright SMD 5050 LED's

Dimmable:

Yes

Temperature Rating:

-60°F - 131°F

Cut Interval: 4 inch (every 3 LED's)

Dimensions: 2mm tall - 10mm wide

Weather Resistance IP20 - Indoor Use Only
Red Color Temperature

625 - 630 nm




Luminous Flux: 16 Lm per 3 LED's

UL Approved
IP20 View
Power Connector View
Adhesive Backing